Tuscola High School


Class Of 1979, Waynesville, NC
In Memory
Danny Miller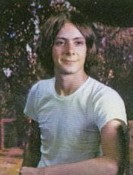 Clyde, Daniel Guy "Danny" Miller, age 51 passed away Friday, March 8, 2013 at The Homestead.

He was a native and lifelong resident of Haywood County and a 1979 graduate of Tuscola High School. Danny was preceded in death by his mother, Doris Ann "Dotty" Teague Lively and his grandparents Guy and Maxie Teague and Raymond and Etta Mae Miller. Danny enjoyed music of all kinds, collecting records and was an avid reader. He was a member of Dutch Cove Baptist Church.

He is survived by his father, Bob Miller and his wife Wanda of Waynesville; step-brother Rick Boyd and his wife April of Waynesville; step-sister Lisa Medford and her husband Alan of Morristown, TN; one aunt Margaret Paxton and her husband Larry of Canton; one uncle Dave Miller and his wife Pat of Orange Park, FL and several special cousins and step-nieces and nephews.

The funeral service will be held at 3:00 p.m. Sunday, March 10, 2013 in the Waynesville Chapel of Wells Funeral Home. Reverend Roy Rigdon will officiate. The family will receive friends one hour prior to the service at the funeral home. Burial will follow at Crawford/Ray Memorial Gardens.

In lieu of flowers, memorials may be made to Medwest-Haywood Hospice and Palliative Care, 560 Leroy George Drive, Clyde, NC 28721.

The family would like to extend a special thanks to the staffs of Medwest-Haywood 5th floor and The Homestead for their special love and care given to Danny.
back to to