Tuscola High School


Class Of 1979, Waynesville, NC
In Memory
Stuart Spurlin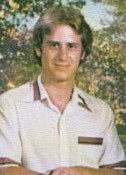 Stuart A. Spurlin
by MPC
ORANGEBURG, SC — Stuart Alan Spurlin, 44, died April 22, 2006.
Services were held April 25 at Dukes-Harley Funeral Home Chapel, with the Revs. Dr. Terry Peele and Frank Hay officiating. Burial was at Memorial Park Cemetery.
Mr. Spurlin was born Aug. 29, 1961, in Waynesville, a son of Dr. Max L. Spurlin and the late Carolyn Ott Spurlin. He worked for Gressette Pest Control in Orangeburg. Mr. Spurlin was a graduate of Appalachian State University in Boone, with a B.S. Degree in business.
Survivors are his wife, Karen Salley Spurlin of the home; two daughters, Kamryn E. Spurlin and Kacie V. Spurlin of the home; his father of Waynesville; brothers and sisters-in-law, Stanford Ryan and Debbie Spurlin of Lenexa, Kan. and Max Steven and Lisa Spurlin of Jackson, Tenn.; father and mother-in-law, Richard J. Salley III and Sarah of Orangeburg; brother-in-law, Richard J. Salley IV and wife Shana of Mt. Pleasant; five nieces and nephews: Megan Spurlin, Lenexa; Turner and Amelia Spurlin, Jackson; Johnson and Maggie Grace Salley of Mt. Pleasant; and a number of aunts, uncles cousins and friends.
Memorials are suggested to the Spurlin daughters Educational Fund, c/o Orangeburg National Bank, 1820 Columbia Rd., Orangeburg, SC 29115.
Stuart was killed in a car wreck.