Tuscola High School


Class Of 1979, Waynesville, NC
In Memory
Phil McDowell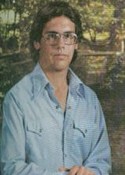 Phil McDowell
John "Phil" Phillip McDowell, 44, husband of Cathy Price McDowell of 103 Glenbriar Court, Waynesville, died Monday, March 7, 2005 at his residence.
Born in Waynesville, he was a son of John Calhoun McDowell of Hickory and Joyce Smathers Winiarski of Marion. He was a mechanical engineer with Color Converting and a member of Brookwood Community Church.
He was a youth soccer coach and he coached the St. Giles United Soccer Team, "The Chilibobs" who played for the state championship.
Surviving in addition to his wife and parents are a daughter, Carson Analiese McDowell and a son, John Taylor McDowell, both of the home; a brother, David McDowell and his wife, Tammy, of Fairview; a special stepsister, Jean Ann Cutshaw and her family of Waynesville; and five stepbrothers and sisters.
Services will be held at 4 p.m. Thursday at Brookwood Community Church Chapel with visitation to follow.
The family will receive friends at the home. Memorials may be made to the Cancer Society of Greenville County, 113 Mills Avenue, Greenville, SC 29605; or to Carolina Elite Soccer Academy, 18 Boland Court, Greenville, SC 29615.
Thomas McAfee Funeral Home, Downtown, 639 N. Main St., Greenville, SC 29602 is in charge of arrangements.